Elf
December 23, 2018 @ 11:30 am

-

1:30 pm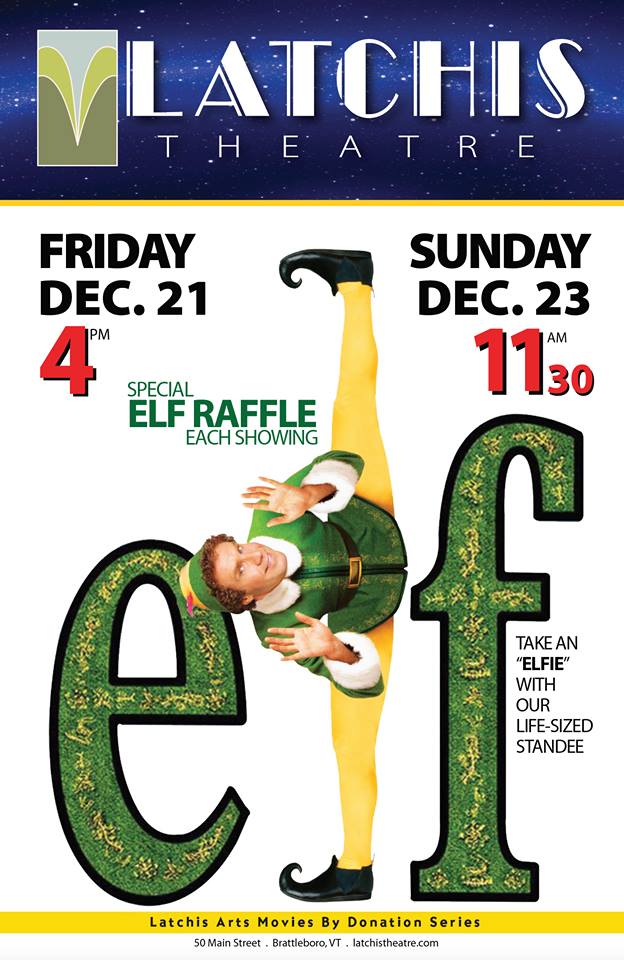 Continuing a recent holiday tradition, Latchis Arts presents the 2003 comedy classic "Elf" as a Movie by Donation on Friday, December 21, at 4 p.m., and Sunday, December 23, at 11:30 a.m., at the Latchis Theatre.
Reminding us that the "the best way to spread Christmas cheer is singing loud for all to hear," the film stars Will Ferrell as a man-sized elf who is forced to leave the North Pole after inadvertently wreaking havoc on the elf community because of ungainly size. He journeys to the U.S. in search of his true identity and manages to teach us all a thing or two about Christmas spirit. "Elf" stars Will Ferrell, Zooey Deschanel, James Caan, Ed Asner, Bob Newhart and Mary Steenburgen. It is Rated PG. Common Sense Media recommends "Elf" for kids age 7 and up.
"This is one of those rare Christmas comedies that has a heart, a brain, and a wicked sense of humor, and it charms the socks right off the mantelpiece," wrote Roger Ebert.
At both screenings, audiences will have a chance to participate in a fun Elf Raffle and take an "Elfie" with our full-sized Elf stand-up cutout.
Admission is by donation, and proceeds benefit Latchis Arts.