Movies for Kids: Heroes Big and Small – 'The Tale of Despereaux
January 13 @ 11:30 am

-

1:00 pm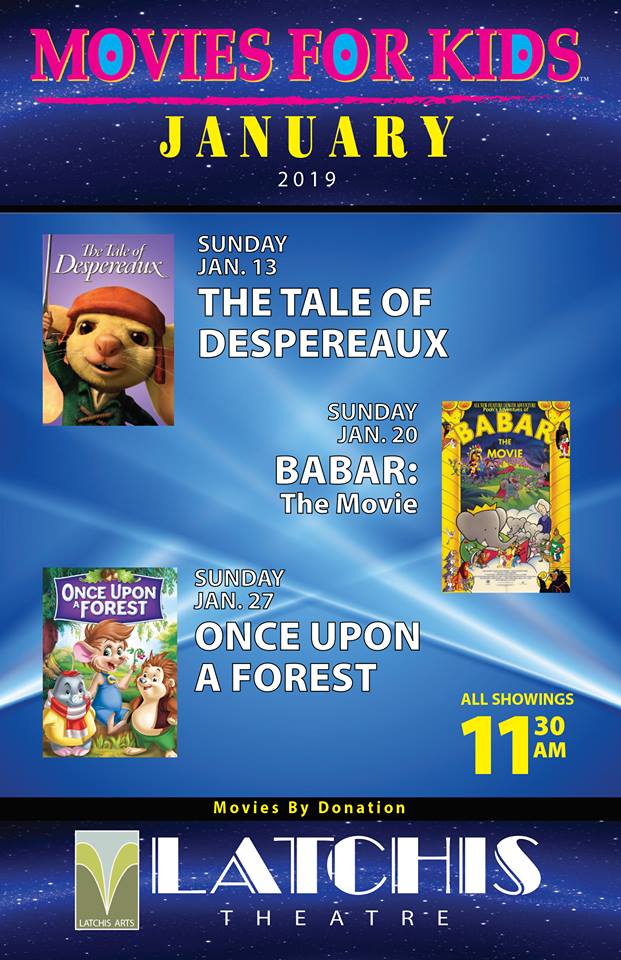 Latchis Arts. Popular Movies for Kids series continues in January with a theme of Heroes, Big and Small. Series screenings take place on Sundays at 11:30 a.m., and admission is by donation.
Heroes, Big and Small screenings begin on January 13, at 11:30 a.m., with "The Tale of Despereaux." This 2008 film is Rated G and tells the tale of Despereaux, a brave mouse banished to the dungeon, who joins forces with several other unlikely heroes in a story of braveness, forgiveness and redemption, with the ultimate message: what you look like doesn't equal what you are. Common Sense Media recommends it for ages 6 and up, saying this "touching, beautiful tale is an excellent family film."
The series features a hero on a larger scale on Jan. 20, at 11:30 a.m., with "Babar: The Movie," a G-rated animated gem from 1989 which brings the famous storybook elephant to life on the big screen. Common Sense Media recommends this film for ages 5 and up, but reminds parents that there is one scene of troubling violence and peril early on.
Celebrating a partnership with the Latchis on the Movies for Kids series, our friends from the Brooks Memorial Library will be on hand on Jan. 20 with books to check out and a chance for local youngsters to get their own library cards.
The series concludes on Jan. 27, at 11:3- a.m. with "Once Upon a Forest," a 1993 G-rated ecologically-conscious adventure about a badger who inhales toxic fumes and is saved thanks to her forest pals, a mouse, a hedgehog and a mole. The Hartford Courant called it a "pleasing, sweet primer in caring for our flora and fauna." Common Sense Media recommends it for ages 6 and up.
Latchis Arts Movies for Kids series films continue on Sunday mornings through March. For information, visit latchisarts.org.