Mud Season Blues Benefit Concert
April 12, 2019 @ 7:30 pm

-

10:00 pm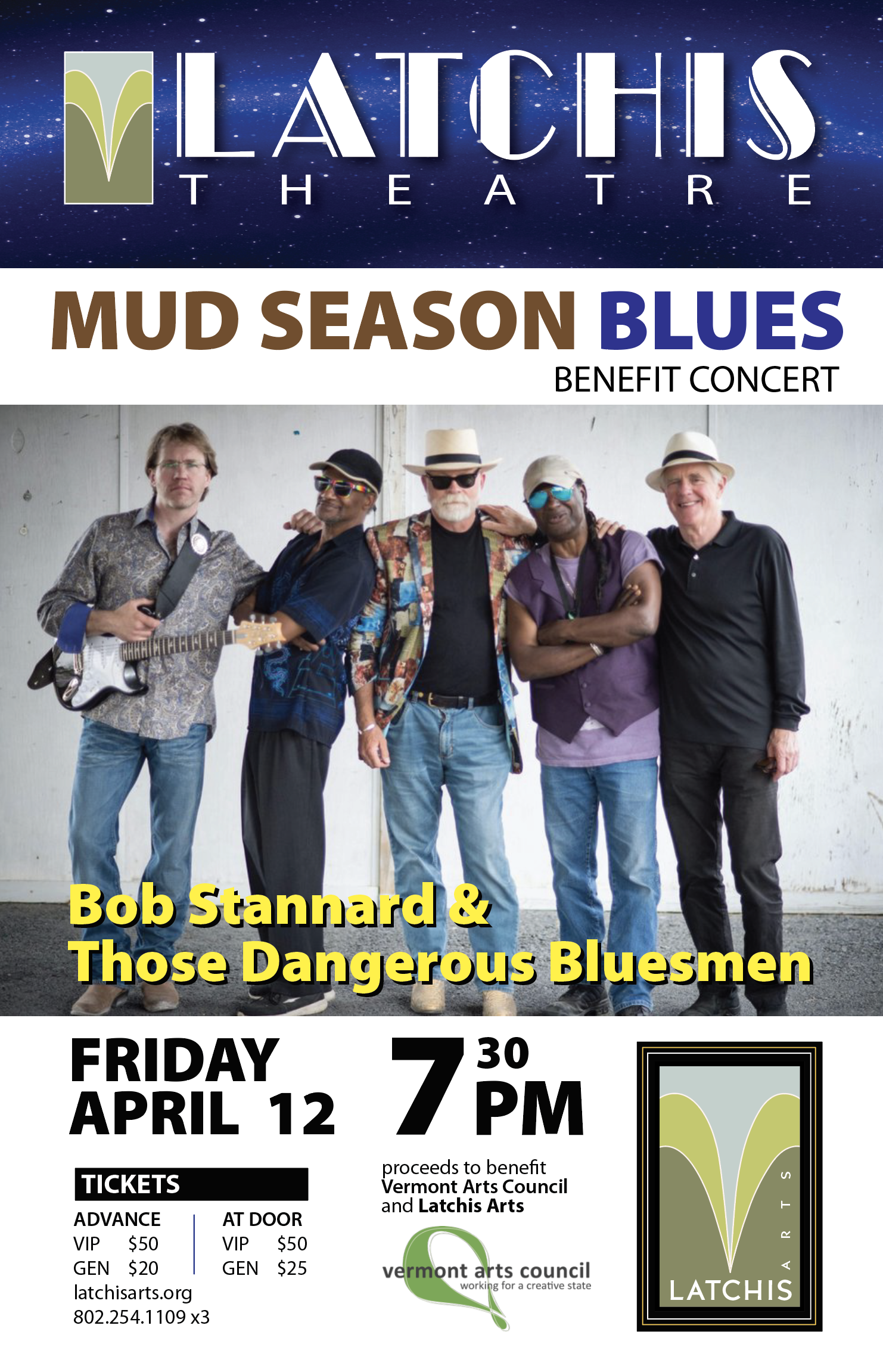 The Vermont Arts Council and Latchis Arts are joining forces to present a Mud Season Blues Benefit Concert featuring Bob Stannard & Those Dangerous Bluesmen on Friday, April 12, at 7:30 p.m.
Stannard and his band play straight-up blues from the likes of Howling Wolf, Sonny Boy Williamson II, James Cotton, Little Walter and Paul Butterfield.
"We are excited that the Dangerous Bluesmen are coming together to put on a great show and support the arts," said Karen Mittelman, executive director of the Vermont Arts Council. "The funds from this concert will provide critical support for artists in the Brattleboro area and throughout Vermont."
Proceeds from the concert will be shared between the Vermont Arts Council and Latchis Arts.
"We do a few slow tunes, but the overwhelming majority of music we play is designed to get you out of your seats, on your feet and dancing like it's your last day on earth," said Stannard.
Stannard is an eighth generation Vermonter who's been playing and singing the blues since 1969, when he quit playing the drums and taught himself the harmonica. Since then, he's opened for or played with a slew of top musicians, including Big Joe Burrell, Sandra Wright, John Hammond, Chris Smither, Maria Muldaur, The Fabulous Thunderbirds, Lynard Skynard, Buddy Guy, Susan Tedeschi, Isaac Hayes, David "Honey Boy" Edwards, and his idol, Charlie Musselwhite. Stannard joined BB King on stage at the Montreaux Jazz Festival in Montreaux, Switzerland, and has even jammed with acclaimed author Stephen King.
Stannard will be joined on the Latchis stage by Those Dangerous Bluesmen, a quintet of top-notch musicians with impressive credits. They include: Jeff Salisbury (drums/vocals), who has played with Albert King and fronts his own band; Kenny B (bass), who has been on the road for 18 years with Muddy Waters Band guitarist Luther "Guitar Jr." Johnson; Brad Morgan (keyboard/vocals), who has played with Satin & Steele for more than 35 years; Joe Moore (sax/vocals), who played with the Isley Brothers and Wilson Pickett and fronts his own band; and John Falk (guitar/vocals) who has played around Vermont for many years and should be in the Blues Hall of Fame.
When he's not playing and recording the blues, Stannard is a proud husband, father and grandpa, an author and an advocate for the arts. He is wrapping up a six-year term on the Board of Trustees of the Vermont Arts Council, including two years as chairman.
"Having art in our lives is what makes for a civilized world. Art is all that matters," said Stannard.
Sponsors include: DMI Paving, Whetstone Station, Mitchell-Giddings Fine Art, Vermont Artisan Designs, Vermont PBS and The Peak.
Tickets are $50 for VIP seats, $20 general, in advance, $50/$25 at the door.
Tickets are available online at LatchisBluesTix
The Vermont Arts Council envisions a Vermont where all people have access to the arts and creativity in their lives, education, and communities. Engagement with the arts transforms individuals, connects us more deeply to each other, energizes the economy, and sustains the vibrant cultural landscape that makes Vermont a great place to live. Since 1965, the Council has been the state's primary provider of funding, advocacy, and information for the arts in Vermont. www.vermontartscouncil.org.
As stewards of the premier performing and cinematic arts venue in Southern Vermont, the mission of Latchis Arts is to promote and host cultural activities for the benefit of our local and regional communities and to preserve the Latchis Memorial Building for future generations. www.latchisarts.org.