The Hatch: Storytellers on a Mission
March 30 @ 7:30 pm

-

10:00 pm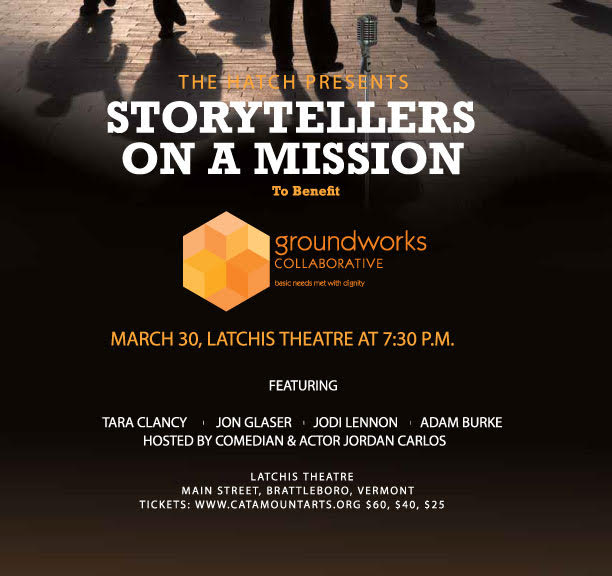 After a three-year hiatus, The Hatch will present its seventh Storytellers on a Mission event featuring nationally renowned storytellers who will tell moving and hilarious stories to raise money for a great cause. The event will be held on Saturday, March 30, at 7:30 p.m. at the historic Latchis Theatre in Brattleboro. The evening's event will be hosted by comedian and actor Jordan Carlos and will include storytellers Tara Clancy, Jon Glaser, Jodi Lennon and Adam Burke.
The upcoming Storytellers on a Mission will benefit Groundworks Collaborative, a nonprofit organization that merged the Brattleboro Area Drop-In Center and Morningside Shelter in 2015. They provide ongoing support and services to families and individuals facing housing and food insecurities in the greater Brattleboro, Vermont area.
Event organizers The Hatch launched in 2013 to produce entertaining storytelling events for the community and donate the proceeds to nonprofit organizations in Vermont. Since its inception, The Hatch has raised more than $200,000 for local causes.
The evening's storytellers will be hosted by New York City-based comedian and actor Jordan Carlos. Carlos' resume includes acting, stand-up comedy and writing. Carlos has appeared on MTV shows Guy Code and Girl Code.  His other credits include appearing on The Nightly Show with Larry Wilmore, Comedy Central's "Live at Gotham," The Colbert Report, Nurse Jackie, Girls, Broad City and most recently, Golden-Globe winner, The Affair. He has written for Samantha Bee's Not The White House Correspondents' Dinner, The White House Correspondents' Dinner and is currently writing for season three of HBO's "Divorce." Look for Carlos to appear in the upcoming season of Black Mirror on Netflix.
Storyteller Lineup
Tara Clancy is a fifth-generation native New Yorker, third-generation bartender and first-generation author. Her writing has appeared in The New York Times, The New York Times Magazine, The Nation and The Paris Review Daily. She is a frequent host of The Moth live shows, a GrandSLAM champ, and has told stories on The Moth Radio Hour, NPR's Snap Judgment, and Risk. She played herself on HBO's Girls and is a recurring panelist on NPR'S Wait, Wait… Don't Tell Me! Her memoir, The Clancys of Queens, was published by Crown in 2016 and is a Barnes and Noble Discover Great New Writers Pick.
Jon Glaser is an actor, comedian and writer who created and starred in the TV shows Jon Glaser Loves Gear, Neon Joe Werewolf Hunter, and Delocated!  He had a recurring role as Councilman Jeremy Jamm on the NBC series Parks and Recreation and appeared as Laird on the HBO series Girls.  As a writer, his TV credits include Inside Amy Schumer, Late Night with Conan O'Brien, and The Dana Carvey Show.  He has written several stories for The New York Times Magazine, and his writing has also appeared in ESPN The Magazine, The Onion A.V. Club and on-line for New York Magazine.  His first book, My Dead Dad Was In ZZ Top, was published by Harper Perennial, and he wrote and directed the music video for Bob Mould's "Star Machine."
Writer, producer and director Jodi Lennon has a vast performance background including Chicago's Second Theatre, The Annoyance Theatre and NYC's UCB Theater. She now writes and produces various television projects. Lennon has written for Hulu's Difficult People and Funny or Die's Billy On The Street. She is currently writing and producing on At Home with Amy Sedaris on truTV.
Adam Burke has been performing comedy in Chicago and throughout the U.S. for 10 years. He is a regular panelist on NPR's Wait, Wait, Don't Tell Me!, and has appeared on the podcasts Doug Loves Movies and The Benson Interruption, The Bob and Tom Show, WGN 720 AM radio and many more. Voted Best Standup by readers of The Chicago Reader in 2014, Burke was also the winner of Second City's Up Next Comedy Competition.
Tickets to Storytellers on a Mission are now on sale at a variety of price points, including $60 front orchestra, $40 rear orchestra, $25 balcony at CatamountArts.org. As the lineup of storytellers has been known to tell late‐night stories with late‐night content, this event is not suitable for children.
To connect to Hatch events, visit HatchVT.org, or socially on Facebook.com & Twitter @HatchVT