Juno Orchestra
February 10 @ 3:00 pm

-

5:00 pm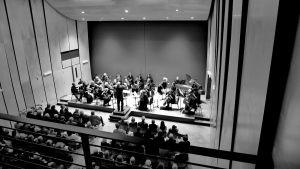 The Juno Orchestra, Vermont's newest professional chamber orchestra, makes its Latchis Theatre debut on Sunday, Feb. 10, at 3 p.m., with a program titled "Senza Zifiri."
Juno founder and music director Zon Eastes conducts this ensemble of musicians from the tri-state area surrounding Brattleboro. The Orchestra is in residence at the Brattleboro Music Center.
The program for Feb. 10 highlights Juno Orchestra's string players and features "Battalia" by Heinrich Ignaz Franz Biber (1644-1704), String Quartet No. 5 by Philip Glass (b. 1937), arranged for string orchestra, and Serenade for Strings, Op. 22, by Antonin Dvorak (1841-1904).
Most humans likely have little stomach for the pains and grief of war. But, perhaps like journalists, composers reflect upon all manner of human propensities as they 'report' upon the world and our human condition. Biber's Battalia, surely one of the most ingenious compositions of its time, is a spirited reflection on the deeply devastating Thirty Years War that ravaged Europe in the early- to mid-17th century. Brief, pointed movements create contemporary reactions to a number of elements associated with war: calls to battle, battle itself, meetings among divergent cultures, and finally lament.
About his fifth quartet, commissioned for the Kronos Quartet in the early 1990s, Glass has said, "I was thinking that I had really gone beyond the need to write a serious string quartet and that I could write a quartet that is about musicality, which in a certain way is the most serious subject." The five continuously played movements work are rich and compelling, churning in a full-throated circular and minimalist style. Zon Eastes commented about the piece, "This quartet offers a particularly grand scope. I performed the quartet many years ago, and even then, recognized its potential for string orchestra." A string bass part has been added to Glass' score, and appropriate permissions have been earned from Glass himself.
In 1875, Dvořák was a new father as he wrote the Serenade for Strings, certainly one of his most beautiful and inviting compositions. Married two years earlier, he was also on the verge of international success, having won the Austrian State Prize thanks to the influence of Johannes Brahms, an ardent fan. The prize provided a significant stipend that allowed Dvořák a focus resulting in a burst of high-quality compositions that solidified his reputation as a top-flight composer. Composed in just two weeks, the Serenade lifts and lilts through five stunning movements, finally circling back to the calm and repose of the Serenade's opening bars.
Further information on Juno Orchestra is available at https://junoorchestra.org/juno-orchestra-project/
Tickets to the concert range from $10-40 and are available by calling the BMC at 802-257-4523, or at bmcvt.org, clicking on Buy Tickets Now (link: https://app.arts-people.com/index.php?ticketing=bmcvt).