Cheryl Strayed – 'A Wild Life: Growing Through Life's Challenges'
June 25, 2019 @ 7:30 pm

-

9:30 pm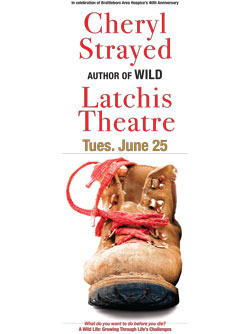 New York Time bestselling author Cheryl Strayed will speak at the Latchis Theatre on Tuesday, June 25, at 7:30 p.m., in celebration of Brattleboro Area Hospice's 40th anniversary.
"A Wild Life: Growing Through Life's Challenges" is an evening of inspiration, wisdom and storytelling with Strayed, author of the No. 1 New York Times bestselling memoir "Wild," a book that inspired Oprah Winfrey to revive the popular Oprah's Book Club and Reese Witherspoon to bring "Wild" to the big screen in 2014.
Using her own story of vulnerability and resilience, Strayed inspires people to find unexpected inner strength in the face of obstacles. At 26, grieving the death of her mother, Strayed embarked on a hike all alone of more than a thousand miles of the Pacific Crest Trail from the Mohave Desert through California and Oregon to Washington State. Told with suspense and style, sparkling with warmth and humor, "Wild" powerfully captures the terrors and pleasures of one young woman forging ahead against all odds on a journey that maddened, strengthened and ultimately healed her. Strayed will discuss her revelations from the trail, including how we bear the unbearable, how we move from grief and anger to acceptance and how we keep walking even when it seems impossible to stand.
The event is a fundraiser for Brattleboro Area Hospice, which provides a broad range of volunteer-based services for living and dying well, focusing on end-of-life, bereavement and advance card planning. Their programs reflect our community's values of kindness, decency and dignity. Founded in 1979 on the belief that no one should die alone, they are dedicated to offering all services free of charge.
Tickets range from $100 to $25 and are available at brattleborohospice.org. For wheelchair-accessible seating, call Brattleboro Area Hospice at 802-257-0775.